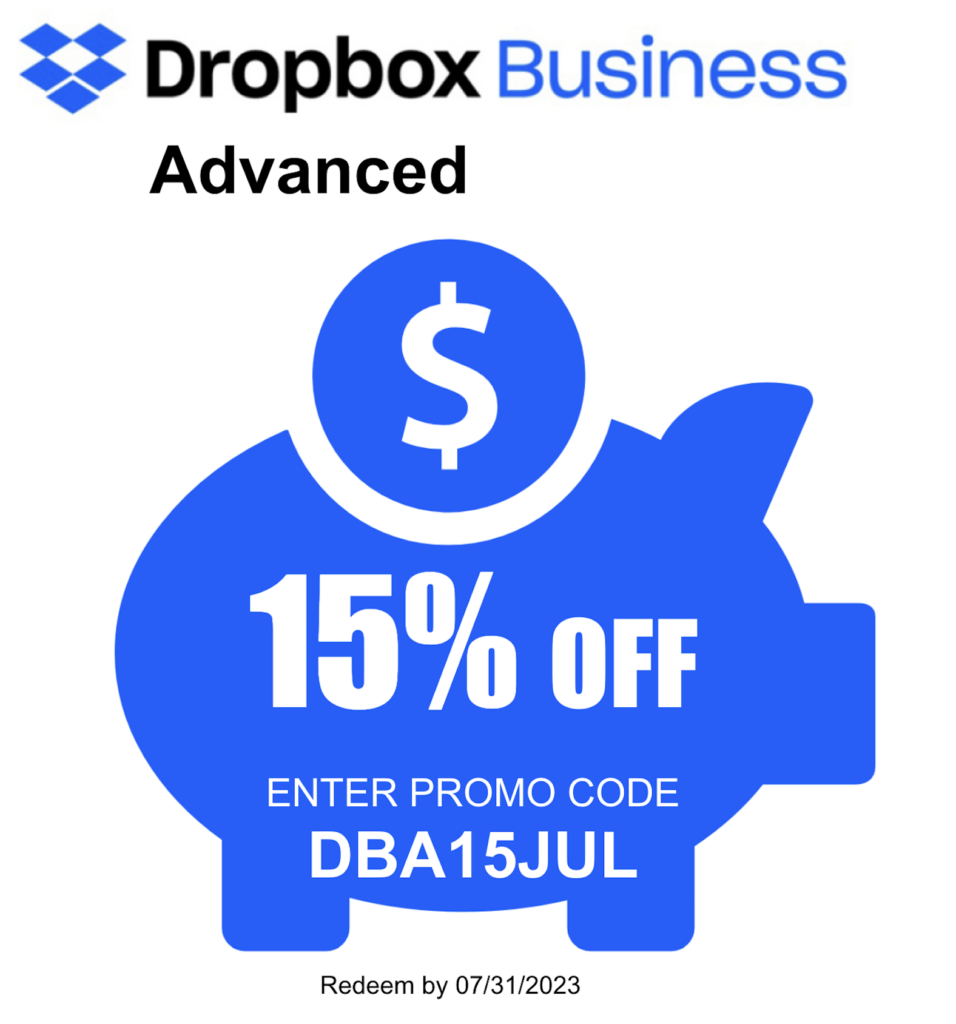 Cloud storage and collaboration have become essential for businesses seeking to optimize their operations. To cater to this growing demand, Gear Cloud Solutions (GCS) has exciting news to share. GCS, a leading provider of cloud solutions, has recently partnered with Dropbox Business, a renowned cloud storage and collaboration platform. This collaboration aims to provide businesses with an exclusive promotion that will enhance their cloud storage experience.
The partnership between GCS and Dropbox Business offers subscribers an unbeatable 15% discount on their Advanced Plan subscription. What's even better is that this discount is valid indefinitely, as long as users continue to utilize Dropbox. This exceptional offer presents a significant opportunity for businesses to access the advanced features of Dropbox Business at an even more affordable price point.
One of Dropbox Business's flagship offerings is the Advanced plan, which boasts a range of powerful features designed to streamline collaboration and boost productivity. Among its notable features is unlimited storage, ensuring businesses have ample room to securely store and organize their valuable data, documents, and files.
To enjoy the unlimited storage benefit, businesses must have a minimum of 3 users. With a monthly price of $30 per user, businesses can unlock this exceptional feature by investing a minimum of $90 per month. This investment not only grants them unrestricted storage capacity but also provides the peace of mind that their business has the necessary resources.
Taking advantage of this promotion is simple. Interested parties can visit GCS's website at gearcs.com/dropbox and enter the discount code DBA15JUL during the registration process. The 15% discount will be automatically applied, ensuring long-term savings for businesses.
However, the benefits of this partnership don't end there. As an authorized partner of Dropbox Business, GCS is committed to providing unparalleled support and assistance to help businesses maximize their Dropbox experience. With a dedicated support team, onboarding assistance, and expertise in merging teams seamlessly, GCS ensures a smooth transition and maximum utilization of Dropbox Business.
Moreover, GCS offers access to Dropbox's suite of popular services as part of this partnership. This includes Dropbox Sign (formerly known as HelloSign), a powerful e-signature solution that simplifies document signing and approval processes. Additionally, businesses can leverage DocSend, a secure document sharing and tracking tool, to enhance their collaboration efforts.
Keeping up with the latest technological trends, Dropbox Business has recently integrated cutting-edge artificial intelligence (AI) features into its platform. With extensive knowledge of these AI capabilities, Dropbox Business can assist businesses in harnessing the power of AI to boost efficiency, automate tasks, and gain valuable insights from their data.
To take advantage of this incredible opportunity, businesses can visit gearcs.com/dropbox today and unlock a special discount for Dropbox Business. Experience firsthand the seamless collaboration, enhanced productivity, and secure cloud storage that Dropbox Business and GCS can bring to your business.